Case Study › No. 8
Wooster, Ohio
---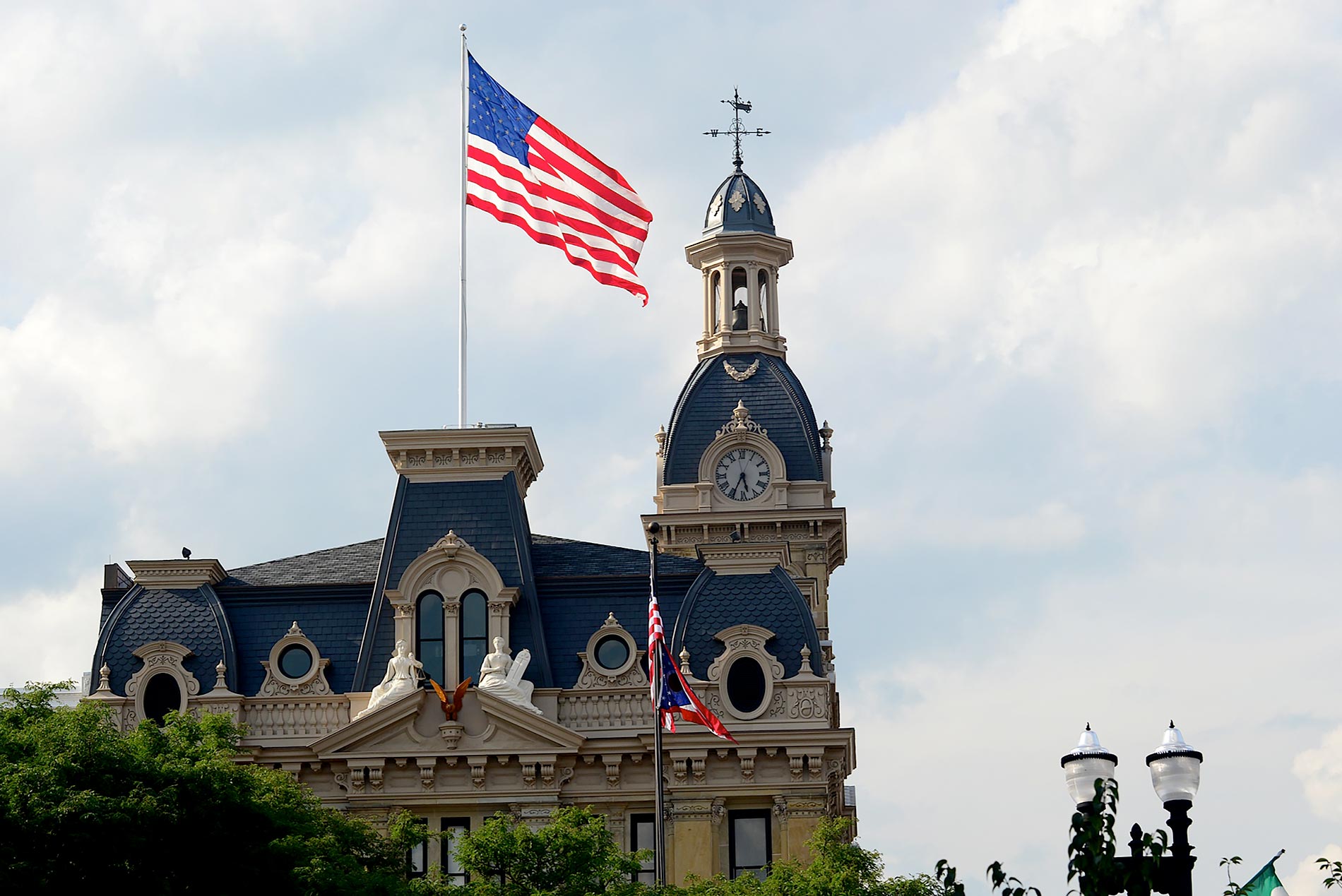 { more photos below… }
As you arrive in Wooster, you get the impression of being in a perfect town. It has great commercial architecture, it is impeccably clean, and there are many quality retail businesses lining the two main streets (Liberty and Market). Most of these businesses serve the locals, though a tourist is most welcome: book stores, coffee shops, clothing stores, restaurants, grocery stores, a news shop, a butcher shop, a jewelry store, a running store, a bike shop, and more. This old city is refreshingly alive and vibrant.
The plan of Wooster was derived from the iconic 1683 plan for Philadelphia in which a grid of streets is modified at its center to form an open public space to accommodate a courthouse, city hall or market. Towering over Wooster's town square is the magnificent Second Empire style county court house, recently restored. The newly renovated St. Paul Hotel overlooks the south end of the square. This beautiful open square lined with important commercial and civic buildings marks the epicenter of the town. The public square in Wooster is a pleasant place to sit on a bench and admire a classic, thriving American town center.
One long stretch of West Liberty Street was re-developed in 2012: a new commercial block was constructed following the same architectural profiles as the rest of the commercial core — new condos upstairs and retail at street level. An ambitious and urbanistically successful project. At the west end of Liberty Street sits the new public library. It is evident that many visionary people are working hard to make Wooster a great place. Many new businesses continue to open up.
First settled in 1808, Wooster is the county seat of Wayne County. Far enough from the growing metropolis of Northeastern Ohio, Wooster is a relatively self-sufficient micropolitan town. There is little suburban sprawl in this county. A bucolic agricultural landscape surrounds Wooster. The beautiful campus of the College of Wooster is at the northern edge of the city, albeit a bit too far from the city center to allow for a dynamic relationship between the town and the school.
One other shortcoming of Wooster is that most of the residential neighborhoods are beyond the comfortable quarter-mile walk from the commercial core. So if you work downtown and you want to walk to work, you will have quite a hike. There are many parking lots between the residential district and downtown so perhaps this enlightened city will some day support some residential infill on these sites which somewhat isolate downtown in a sea of parking lots. At least there is no shortage of parking.
Spiritual, economic, and cultural revivals are happening all over Ohio. Wooster seems to be in the forefront of this movement. What is missing in many of the revitalized historic Main Streets across the Unites States is authenticity. They no longer serve the citizens of the town but rather have become merely entertainment destinations for outsiders. Wooster is a delightful place to live and work and visit.
The Houses of Old Wooster
All Within Two Blocks of the Town Square
(click on image to enlarge)