Case Study › No. 17
West Reading, Pennsylvania
---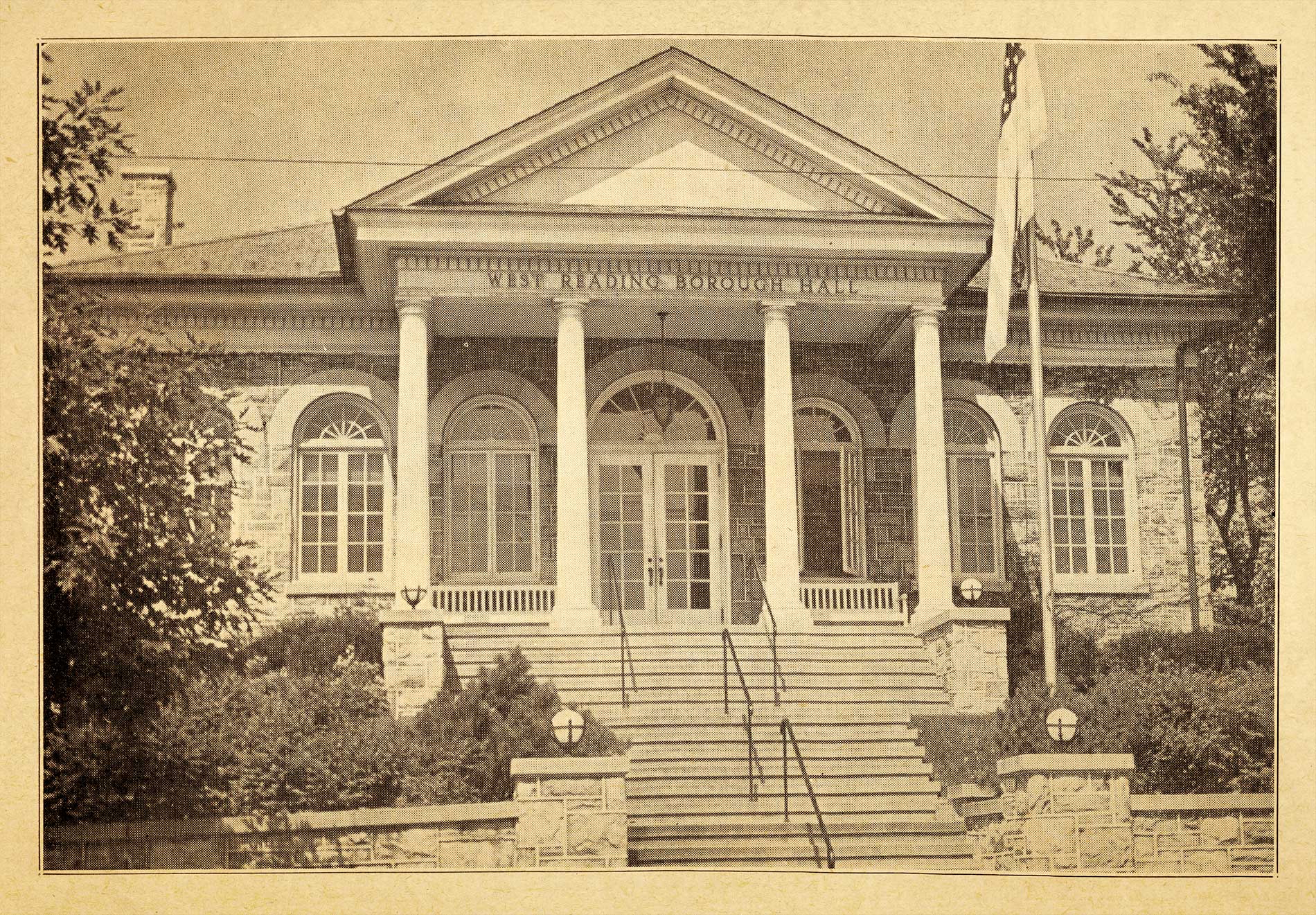 { more photos below… }
The most vibrant, walkable, and cohesive community in Berks County, Pennsylvania is the small borough of West Reading, population 4,000.
Penn Avenue is West Reading's Main Street. This bustling thoroughfare is undergoing a renaissance in which old businesses are thriving and old buildings are being reinvented to house new businesses. Creativity abounds here. The borough supports a number of initiatives that both preserve and enhance the unique historic fabric of its commercial and residential precincts. West Reading participates in both the National Trust's Main Street Program (for its commercial district) and Pennsylvania's Elm Street Program (for its residential neighborhoods). And the borough has invented and reinvented a number of other programs that support the arts and other disciplines that enhance the quality of life here.
Progressive West Reading stands in stark contrast to the suburban sprawl and urban decay that surrounds it. West Reading's re-birth is especially dramatic when seen in the context of the history of the adjacent City of Reading. Reading's dramatic rise and fall over the past 150 years should be fully documented, though perhaps only Tolstoy could do justice to this story. In 2011 it was cited as the poorest city in the United States — a major achievement in that just 100 years ago it was one of the richest cities in the country. Becoming so degraded does not happen overnight. It takes huge cooperation over several generations, on the part of many people as well as inept local, state and Federal government policies.
To the west of West Reading sits Wyomissing, a borough that has embraced every suburban trend that has come along since its inception in 1906. Wyomissing can be studied as an example of the success and failure of suburban thinking. Its early residential neighborhoods are well-known for their visionary planning. Some of the most renowned urban planners in the country worked on the first plans for Wyomissing. But the borough did not incorporate a vision for how to address the commercial side of a community. Without such guidance, 20th century shopping malls and other sprawl developments have overshadowed the original intent of the borough founders to create an idyllic park-like suburban escape from the city and its chaos.
Since its founding in 1907, West Reading has benefitted from a series of initiatives that have embraced traditional pedestrian-oriented town planning. The eminent town planners, Hegemann & Peets were one of the many talented design firms that have contributed to the mosaic of West Reading over the years.
West Reading can be studied as an example of getting it right. And it is still evolving. In recent years, West Reading decided to take a different path from the urban decay to the east and the suburban sprawl to its west: to preserve its traditional urbanism and at the same time to encourage creative, out-of-the-box thinking. This momentum is attracting responsible new citizens and patrons. The fact that West Reading is thriving is proof that citizens of Berks County are looking for a walkable place in which to live, work, and play.
Dining, Playing, Shopping, and Worshipping in West Reading
(click on image to enlarge)
Most suburban neighborhoods are designed to be accessed primarily by car and walking is often dangerous. The typical suburban house turns its back on the public realm and discourages interaction among neighbors. It has a garage bumping out in the front, difficult access to the front door, and instead of a front porch it has a private patio in the rear. We are not aware of any houses in West Reading that are designed this way. West Reading's streets are lined with beautifully-designed houses that are street-friendly with welcoming front porches. And tree-lined streets with sidewalks encourage pleasant and safe walking. Most of these houses have alleys in the rear for service and car parking. In suburban America it is countercultural to be a pedestrian. But in West Reading you can live on a beautiful street and walk everywhere. No house or apartment in West Reading is more than a 10-minute walk to the Penn Avenue business district and public transportation corridor.
West Reading is densely packed with a high percentage of row houses, most of which were built between 1875 and 1930. Each block of houses is meshed beautifully with its adjacent blocks creating a magnificent tapestry of great architecture and urbanism. Mixed-use zoning allows for corner grocery stores and other commercial and institutional buildings that are integrated beautifully with the houses.
With over 5,000 employees — and growing — Reading Hospital (which is in West Reading) is one of the largest employers in Berks County. This bastion of traditional healing practices is balanced by a growing number of non-traditional wellness practitioners and purveyors of natural food and healthcare products who are living and working in the vicinity. The Penn Avenue corridor is becoming a mecca for practitioners of the healing arts, both traditional and non-traditional. This trend — coupled with its walkability — makes West Reading attractive for those seeking a healthy lifestyle.
There are a number of cultural, economic, and spiritual revivals beginning in the city of Reading and throughout the region. Could Reading be the next Detroit? If so, West Reading is generating momentum for the entire metropolitan area. The ideas coming out of West Reading might begin to cross the bridge and inspire Reading itself and the entire region. If once-great Berks County is to be born again, it is possible that this process is centered in West Reading. Wellness, creativity, and healthy urbanism abound in this special place. Come here to study an almost perfect town. But you must walk around West Reading. If you drive, you will miss what is special.
At Home in West Reading
(click on image to enlarge)
West Reading's Delights
Diverse and attractive housing options are seen throughout the borough — all walkable to shopping and public transportation.
Creativity abounds here. The mural program is amazing. The wayfinding graphics are fabulous. Unique businesses are opening up and thriving. Alternative wellness venues are attracting more and more practitioners and customers.
Mixed use building types are seen throughout the borough. Churches are next door to row houses. Laundromats and shops are seamlessly integrated with residential blocks, all contributing to a convenient walkable place to live.
West Reading has one of the best weekly farmer's markets in the regions — with a strong presence of organic growers.
West Reading has all the ingredients that a growing number of people are seeking in the 21st century: small, beautifully-designed historic houses, a serious street tree program, 100% walkability, a vibrant Main Street (and getting better), good schools, and a growing number of enlightened citizens and borough officials who recognize what a gem they have in West Reading.
The Murals of West Reading
(click on image to enlarge)
West Reading's Opportunities
Vehicular traffic on Penn Avenue (which is also a state highway) needs to be calmed. West Reading might look at nearby Lititz in which a bump-out crosswalk is used to slow traffic on another state highway.
West Reading's sign code should be modified to allow overhanging signs and neon signs. And electronic moving message signs (one of which one has recently been installed on Penn Avenue) should be prohibited. NOTHING distracts and diminishes the quality and safety of a traditional shopping district like electronic moving message signs.
Mixed use zoning should be encouraged.
The old Penn Theatre needs to have its neon marquee sign re-installed. What a great focal point this would contribute to the streetscape!
Absentee landlords must be held accountable to borough ordinances. Pride of ownership should be encouraged. Historic houses are not just housing (and income if you are a lessor) but are also part of an important historic context that needs to be preserved for future generations. Current property owners should see themselves as stewards of valuable resources.
There appears to be no existing inventory of historic buildings for West Reading. Since most of the borough's structures qualify as historic, we need to get to work on this. In conjunction with this a solid historic preservation ordinance might be in order.
The traffic roundabout (Delaney Circle) on the northern edge of the borough might be redesigned as a beautiful entry way into the borough. Large-scale elements are called-for here as this is primarily a vehicular corridor. However, the neighborhoods adjacent to it deserve safer pedestrian crosswalks too.
The few voids in the urban fabric along Penn Avenue can easily be incorporated in a new master plan that reinforces Penn Avenue as an urban corridor and lessens the impression of a series suburban strips. In particular, the parking lot/shopping center on the north side of the 500 block of Penn Avenue lends itself to be reconfigured as a town square surrounded by shops. One possible prototype for this might be the historic town square of Lititz (fig. 2) which was also situated alongside of a Main Street rather than being at the intersection of two major arteries as are most Pennsylvania town squares.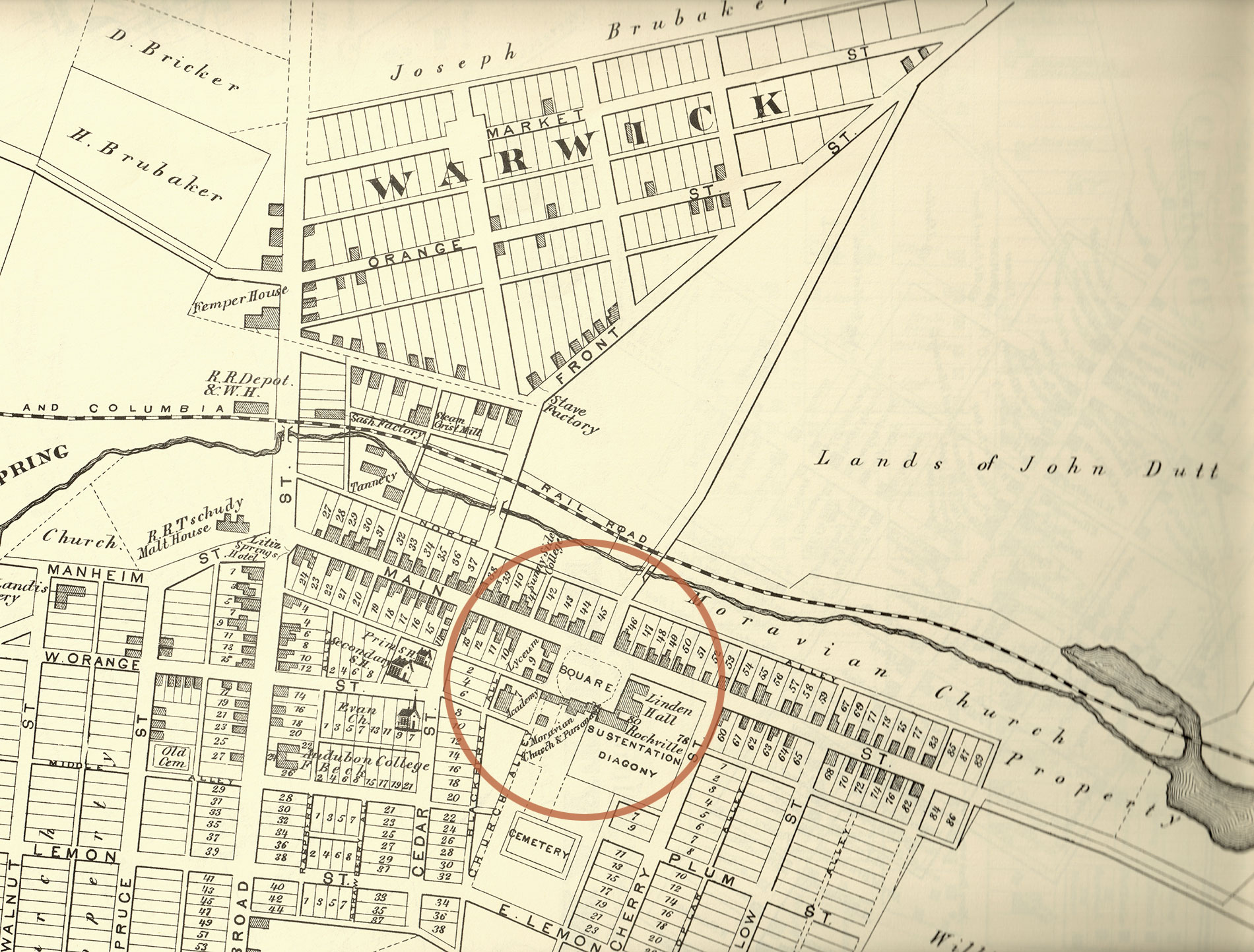 Why West Reading
Most of West Reading is an example of civic art — not just urban planning. West Reading was planned and built out primarily between 1875 and 1930 — a period in which town planning and residential architecture were seen as art forms. Many talented town planners and architects worked to create a sound, commodious, and delightful place in which to live. West Reading has matured into a thriving, walkable community with large trees shading residential streets. On the southern edge of the borough, the Reading Public Museum overlooks West Reading's parkland. The eastern edge of the borough overlooks the scenic Schuylkill River adjacent to which are a series of bike/hiking paths that lead into the countryside. Penn Avenue is the commercial core of West Reading and it is becoming a regional destination for a Main Street experience — something few towns in the area can offer any more.
West Reading is offering a gift to its citizens and its visitors — a gift that should not be squandered. It is offering us a place to be real human beings who participate in a thriving community, not merely operators of automobiles. This is a place to settle down and build positive relationships with fellow citizens. Hopefully, everyone in the borough can have an equal voice in the conversation about what West Reading can become.