Case Study › No. 16
Wayne, Pennsylvania
---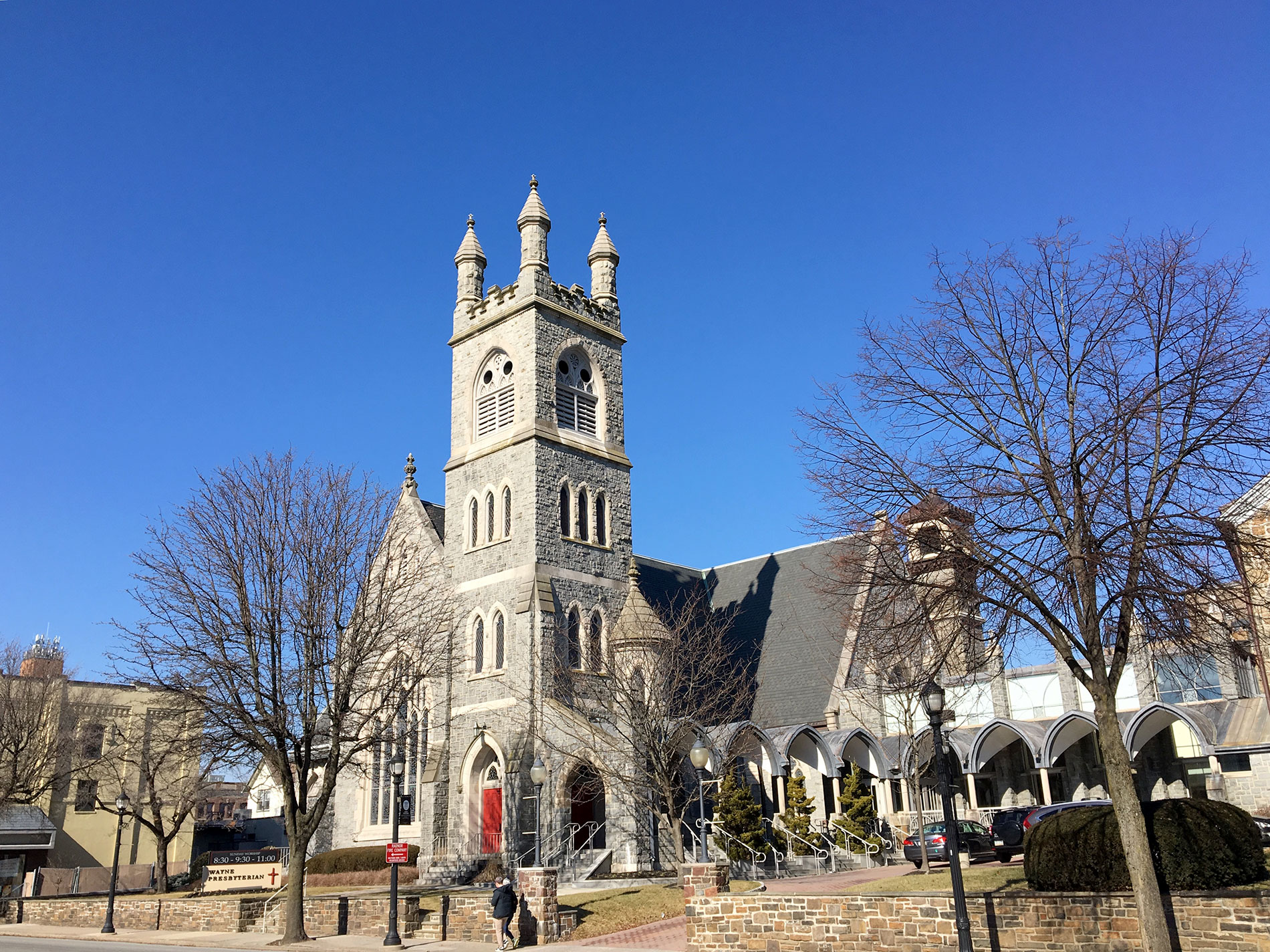 { more photos below… }
Chestnut Hill, Doylestown, and Lititz have some of the most beautiful, walkable historic Main Streets in Southeastern Pennsylvania. Their narrow tree-lined commercial corridors encourage safe and leisurely shopping. Vehicular traffic is forced to slow down – a factor that greatly contributes to a relaxing, safe environment in which pedestrians can take their time wandering in and out of shops and restaurants. And people who live nearby can walk to Main Street without being flattened by aggressive drivers when they try to cross the street.
Wayne could be on par with the most livable and walkable communities in the region. From its inception in the nineteenth century Wayne was was set apart as a unique and beautiful place to live. It was developed and promoted as a utopian commuter suburb in which people could walk to the village and to the train station and go to work in Philadelphia 15 miles away. Today, a few key problems — mostly traffic control issues – need to be addressed for Wayne to restore its idyllic identity. Safe and delightful walkability is essential for citizens to thrive in community and be socially and physically healthy.
At Home in Wayne
(click on image to enlarge)
Wayne's Delights
Wayne's shopping district contains all the businesses necessary to support the daily needs of the resident who lives within a walkable distance of the downtown. Wayne even has an independent book store, a movie theatre, and a boutique hotel — rare amenities to be seen in any small town these days.
A wide range of housing types is located within a quarter-mile of Wayne's downtown shopping district. In the late 19th century some of Philadelphia's most talented architects designed these houses and apartments. Few towns in the US have such a large number of architecturally significant residences adjacent to Main Street. Most of the houses of old Wayne have large front porches — a feature that is conducive to neighborly discourse. The front porch provides a zone that transitions between public and private space, thereby encouraging civic awareness. It is a place that nurtures fellowship. As one early Wayne promotional brochure stated: "A generous spirit pervades the whole place, and encourages each one to do his best."
A train station (restored in 2010) in the center of town connects Wayne to Center City Philadelphia, New York and beyond. Wayne was established in the 19th century as a rail commuter town so the plan of the town is oriented around the idea of walkability to shopping, community services, and public transportation.
Top-rated schools, vibrant houses of worship, a post office, and a big new library are all located in the center of town. Civic and cultural organizations abound in Wayne and contribute to intellectual discourse and a high quality of life.
The people of Wayne appear to be especially gracious. There is a small-town friendliness and politeness here that gives the visitor the impression of a nurturing, welcoming environment. There appears to be a strong tradition of civility here. Kindness and respect are conducive to productive conversation. A town cannot prosper and grow without conversation that leads to collaboration. A spirit of cooperation is apparent in Wayne.
Shopping in Wayne
(click on image to enlarge)
Wayne's Weaknesses
Lancaster and Wayne avenues intersect in the heart of downtown Wayne and here we see one of the problems. Lancaster Avenue is also a state highway (Route 30) that runs between Philadelphia and points west across the state. This traffic needs to be calmed down if Wayne is to be pedestrian-friendly. Part of the problem is that Lancaster Avenue — leading into town from both directions — is a straightaway lined with strip malls, so drivers arrive in Wayne as if they are driving on a freeway. There are countless ways in which other cities have handled traffic calming in situations like this. It is the responsibility of Radnor Township to acknowledge the uniqueness of Wayne and to protect this with proper planning initiatives. Downtown Wayne is not just another strip mall along Route 30. It is a revered town center with huge potential for safer walkability.
Even though all the side streets are narrow, drivers in and around Wayne are very aggressive. Lancaster Avenue is not the only dangerous roadway. Speed bumps are located in several locations. Perhaps this could be expanded. Despite the fact that Wayne is very picturesque, one seldom sees bicyclists anywhere-. Because of out of control drivers, Wayne is not as safe as it should be for cyclists or walkers.
A sensitive skilled urban designer should be brought in to address the serious traffic issues in Wayne and to help the town plan for smart growth. This plan might incorporate street trees and other plant material, new parking configurations, and additional protected crosswalks. Signage could also play a part in notifying drivers that they are entering a traditional shopping and residential district in which pedestrians are present in high numbers. So slow down!
There are a number of important historic buildings in the commercial core of Wayne. Downtown Wayne is a National Register Historic District, but no local historic preservation ordinance is in place to protect it.
New chain stores are popping up along Lancaster Avenue. The high volume of car traffic here supports this kind of development. In this process, existing buildings are demolished and parking lots appear along the street with the business set at the back of the site. The growing expanse of voids between buildings along Lancaster Avenue contributes to the appearance of a strip mall landscape instead of a traditional, walkable Main Street. This style of suburbanism undermines the cohesiveness of a traditional walkable community and channels citizens off the sidewalks and into their cars. When it is unsafe or unpleasant to walk or cycle, People tend to drive even when the distance is short.
Wayne is not an incorporated community, but merely a zip code that straddles three counties and four townships. Downtown Wayne, however, sits exclusively in Radnor Township, Delaware County. Though Wayne has a distinctive identity because of its historic town center surrounded by cohesive residential neighborhoods, planning initiatives may be hindered because it is an unincorporated entity.
Wayne is already a fine place to live, shop, and work. Because of its intelligent, cooperative citizens the problems we cite can be addressed with style and dignity. A better defined and preserved downtown will reinforce the unique identity of the place, and with calmer vehicular traffic walkability will be enhanced. When Wayne implements the few new planning measures we suggest, it will stand as an example of a brilliant original town plan that has evolved over time, a plan that has been enhanced — and not undermined — by new planning initiatives.