Case Study › No. 19
Carlisle, Pennsylvania
---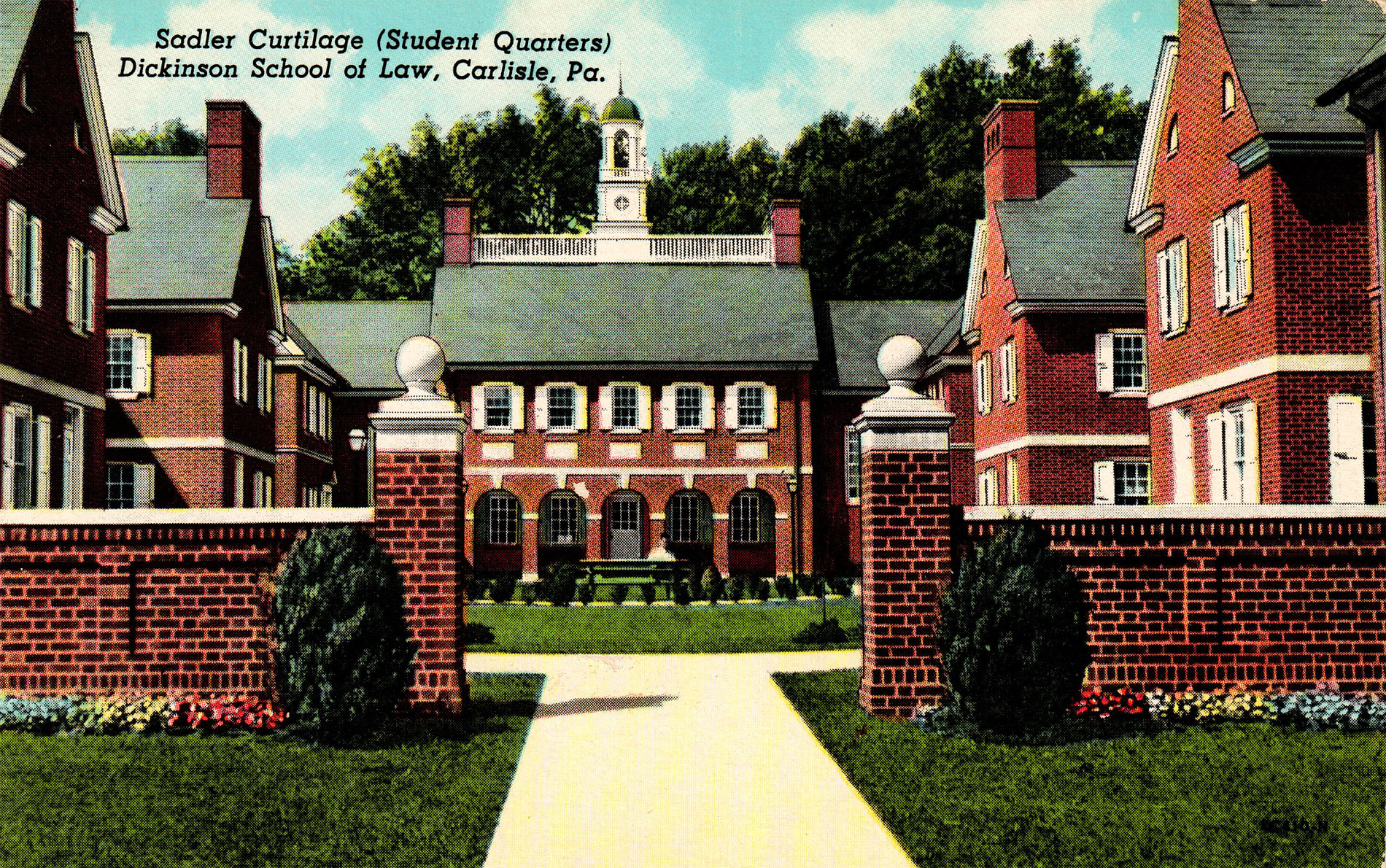 { more photos below… }
Carlisle, Pennsylvania was a strategic location in the 18th century. It was the gateway to the south and west for huge migrations of pioneers. It was a trading center, a military staging site for several wars, and a center for Anglo enculturation. Its architecture, urbanism, and institutions signified a new order on the frontier. Since its founding in 1751, Carlisle has continued to be a place of opportunity.
Until the late 20th century, you could live within a quarter mile of downtown Carlisle and do all of your shopping and other business on foot. Local merchants knew you and they provided personal service. In recent decades, Carlisle lost many of its downtown stores to competition from new suburban retailers. The beautiful, historic commercial buildings gradually welcomed new tenants, the majority of which were small boutiques that catered to the sale of inessential goods. Downtown became more of a tourist destination, a place for casual dining and recreational shopping, while the locals who used to be able to walk to shop now needed to drive to the chain stores at the edge of town.
Carlisle sits at the intersection of the Pennsylvania Turnpike and Interstate 81, the state's two busiest highways. Because of this still-strategic location, there is a high concentration of new warehouses/distribution centers totaling over 20 million square feet and growing. We see here a collection of immense buildings plopped down in the Pennsylvania countryside whose main purpose is to supply vast regional markets that generally bypass Main Street commerce.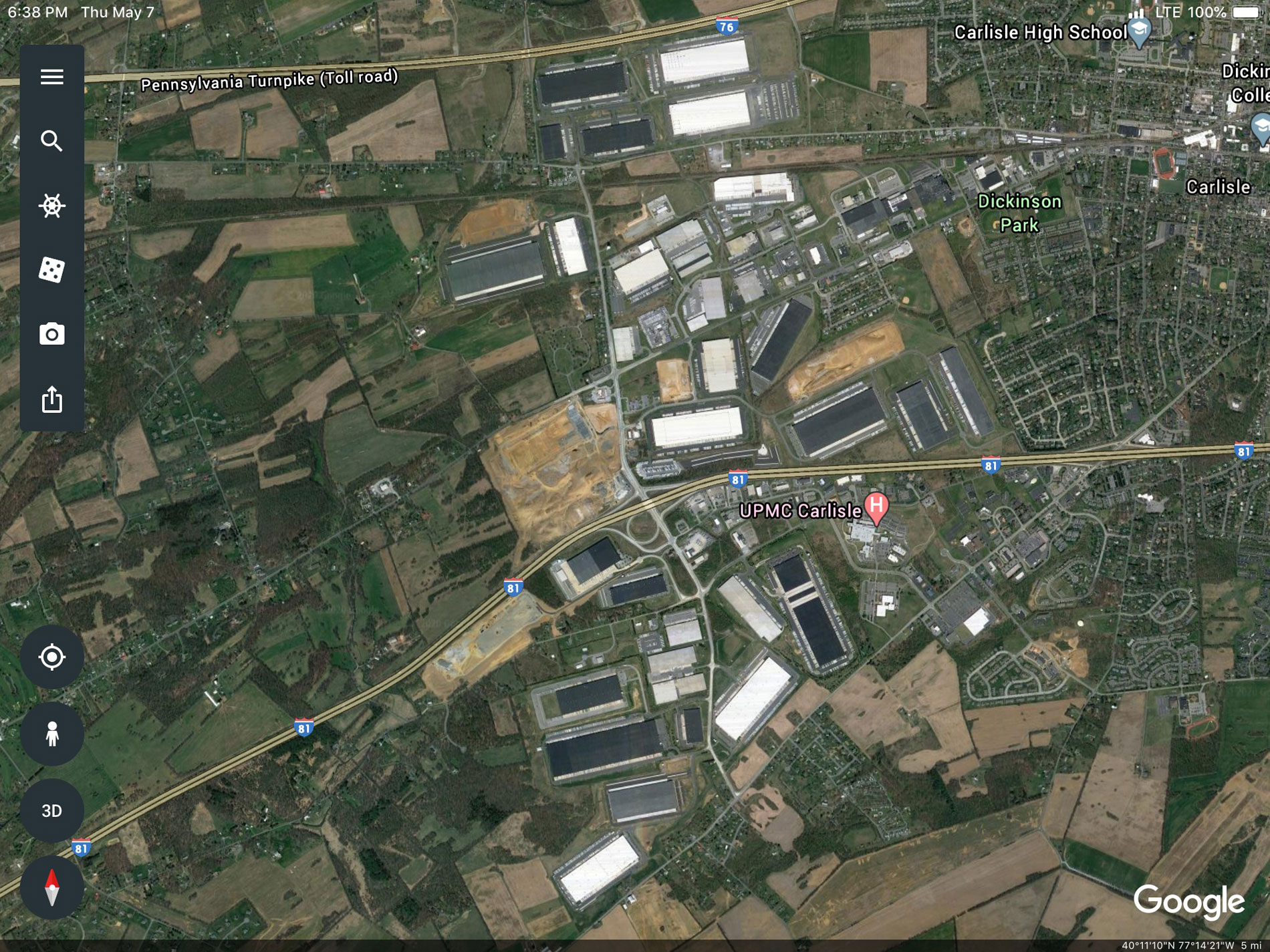 During the pandemic in the Spring of 2020, we have been able to study the trends in Carlisle with a new eye. Because of state government regulations that deem most of downtown Carlisle's businesses "non-essential," the only places locals have been allowed to shop are in big box stores. This has only accelerated an unfortunate trend. Like the nearby Appalachian Trail (which is closed), Carlisle's two Main Streets, Hanover and High, are mostly devoid of pedestrians. And since there are few pedestrians and almost no cars parked along the street, tractor trailers breeze through town at an even faster pace than usual. High Street has become more like an open high-speed highway.
The virus du jour is not the only invisible enemy of towns like Carlisle. The growing concentration of electromagnetic fields in urban areas has added a new danger to Main Street. As you walk through downtown Carlisle, you are in an area with a high concentration of EMFs. Within 2 miles of the courthouse, there are at least 20 cellular towers and over 90 antennas which transmit EMFs. With the advent of 5G technology, health issues will become increasingly serious. How can we protect our towns from these assaults from high-speed traffic, contagious viruses, EMFs, and many other emerging problems? Citizen advocacy is needed to monitor traffic, EMF proliferation, suburban sprawl, and government regulations that are restrictive to Main Street commerce.
The current scamdemic/epidemic/pandemic — call it what you will — has boosted the digital economy at the expense of the traditional Main Street economy. The digital transformation of the economy, which has been developing for several decades, is changing how businesses are structured, and how consumers obtain services, information, and goods. The houses of worship in Carlisle have been closed because of state government mandate. Many of the churches offer online services, and we saw a drive-in movie site south of town being repurposed for church services. Where there is a will, there is a way!
Churches, temples, and theaters are places where fellow citizens can congregate, imagine the world as a better place, share creative ways to grow, learn, and improve themselves, and learn about others. Like places of worship, theaters have been closed, along with libraries and schools. These important institutions will reopen but while we have been without them, we are gaining renewed appreciation for the value they bring to our lives. In addition to the commercial establishments, religious and cultural places are heavily concentrated in the downtown area. There is the potential for a better cooperation of all of the residents, institutions, and businesses to strengthen downtown to make it the great place it once was.
Crises can lead to opportunities and new clarity; Or they can kill the spirit of a people. When High and Hanover streets reopen for business, it will be interesting to see what businesses are still open and who is still shopping here. After being cooped up in our homes, will we have become so accustomed to exclusively ordering online and shopping in the big box retail outlets that we just forget about returning to Main Street to shop in the few remaining stores? In addition, the economy may or may not be vibrant enough for shoppers to have much disposable income.
At Home in Carlisle
(click on image to enlarge)
Like most places on Planet Earth, Carlisle has survived many disasters and economic downturns. Carlisle has beautiful and varied housing stock, good public schools, and one of Pennsylvania's most handsome courthouse squares from which radiates exquisite streets lined with well-preserved historic structures. Dickinson College and the Army War College are within walking distance of downtown.
Hopefully, newly empowered citizens will reevaluate this special place and help to write the next chapter of Carlisle's history. With renewed appreciation for Carlisle's assets and increased awareness of the forces that threaten them, they can restart one of the most beautiful and historic boroughs in South Central Pennsylvania.