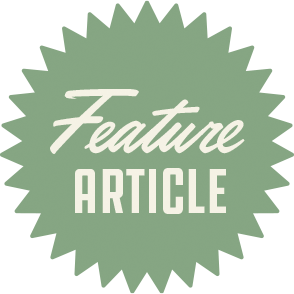 Old neon signs often serve as important urban landmarks. They help to visually identify key locations in a city, marking it with distinct visual icons. They contribute significantly to what urban designers, architects, and city lovers call placemaking, giving streets character and animation, reinforcing a sense of local history. Those that have survived time are often good to great examples of the increasingly rare art of neon sign-crafting. Even the simplest can be remarkably intricate in design and fabrication.
The Grace's Furniture sign is one of Chicago's most significant historic neon artifacts. It is known well beyond the city's borders for its scale, its mid-century design flair, and for the mere fact that it has survived so many changes in its neighborhood. To lose it or mistreat it would be a great misfortune, a forfeiture that would reverberate in the national media. Historic signs in Chicago and across the nation are increasingly being watched as the general public shows growing concern for the future of historic neighborhoods. It's not just about architecture anymore. Cities across America are more and more active in the pursuit of public policy that protects these signs. The Grace's Furniture sign is extra significant in Chicago for being part of an historic neon corridor that extends from Margie's Candies to the Logan Cinema. Such a concentration of historic neon in now very rare in America.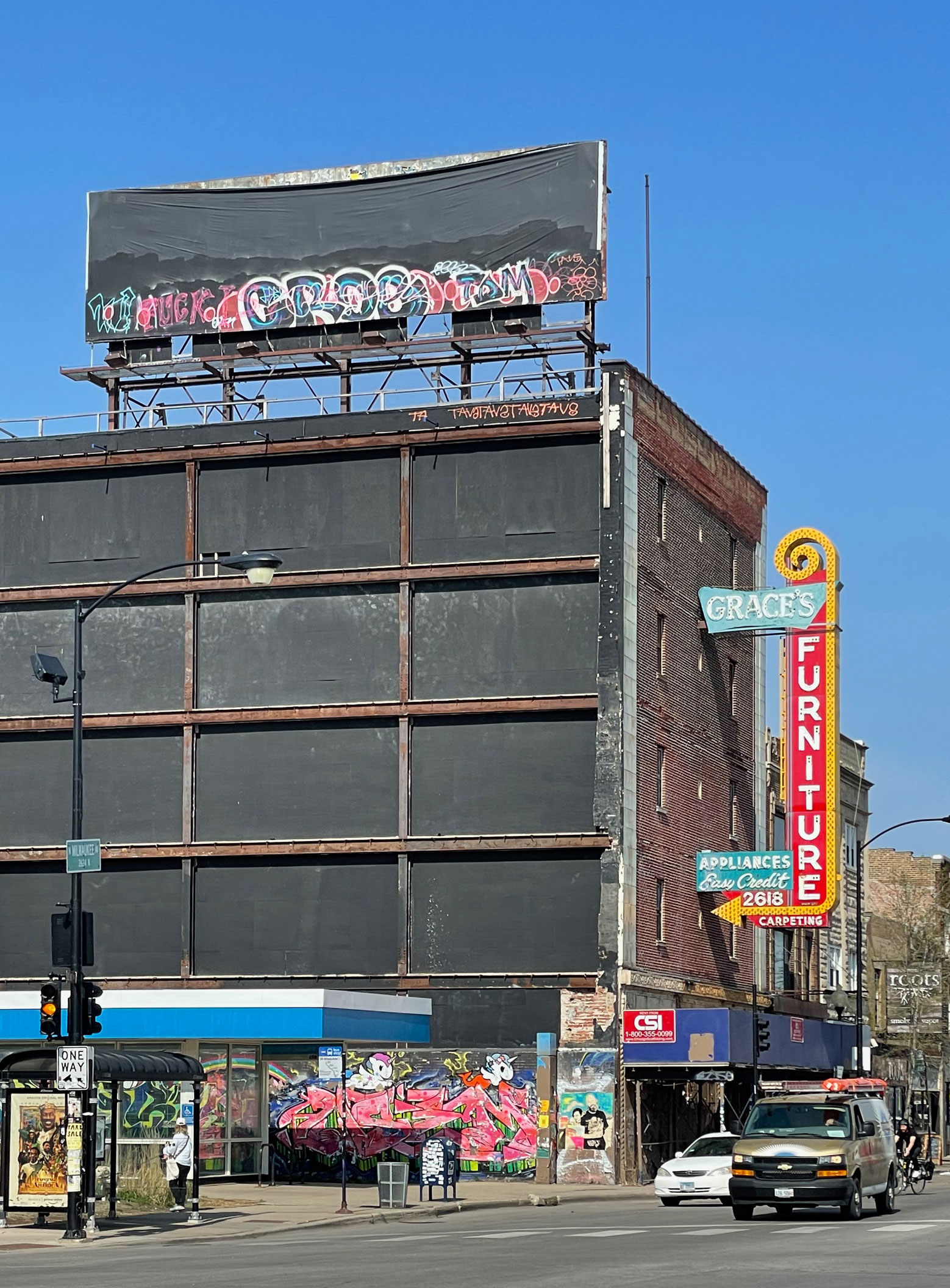 Across the United States, more and more historic signs of the scale and stature of Grace's Furniture are receiving full restoration to operate as they once did, with fully functioning neon. Such illuminated landmarks become true civic beacons. Positive national press following the re-lighting of such signs is often surprising in its scale, with a powerful effect on tourism and neighborhood development.
As an architect the author of the definitive book on historic signs and commercial architecture, I can make an informed recommendation regarding the future of the Grace's Furniture sign.1 At the bare minimum, this sign should be examined for its structural stability by a sign company well established with artifacts of this scale and potential complexity.2 Whether or not the neon element of the sign is restored, the sign itself should be structurally stabilized. Ideally this same qualified company would be directly involved with cosmetic factors such as painting or visual touch-up. Only certain paints will be effective in bonding properly with the sign's surface, and color matching will be important. The wrong paint could quickly render the sign unsightly, with the potential for peeling paint rendering the sign distressed visually. This, in turn, could affect the way that the sign is perceived in the future, diminishing reverence and respect. The ultimate goal for this sign should be a full re-lighting of the neon, even though this may achieved at a later date. In any case, nothing should be done (or left un-done) that would prevent this sign from being fully restored eventually. Regular maintenance of both finish and structural sound-ness is highly recommended, if not essential, beginning as soon as possible.3 Whether illuminated by floods or neon, a well-kept sign will contribute greatly to the public's perception of the neighborhood. And once this fully functioning neighborhood landmark is re-lit by neon, it will be the visual beacon that this historic stretch of Milwaukee Avenue (and the City of Chicago) deserves.
1 Signs, Streets, and Storefronts: A History of Architecture and Commercial Graphics Along America's Commercial Corridors, Johns Hopkins University Press, 2012.
2 Recommendations to follow at the appropriate time.
3 This is not currently perceived to be an especially arduous or prohibitively expensive task. But all signs merely left to the elements will degrade quickly and possibly pose a safety risk to pedestrians and motorists.